The Accessible Depression and Anxiety Peripartum Treatment (ADAPT) program is an outpatient, mental health program serving pregnant and postpartum women and families throughout San Diego County. In partnership with Behavioral Health Services (BHS) and Public Health Nursing Home Visiting programs (NFP and MCH), ADAPT provides accessible and timely integrative mental health treatment and peer support to address the impact of perinatal mood and anxiety-related challenges during and after pregnancy.
The goal of ADAPT is to increase access to peripartum mental health services for women and families who are currently experiencing, or may be at risk of mental health challenges during the peripartum period.
Service delivery and components include:
Accessible (telehealth, home- or community-based) mental health services for individuals and families in need of therapeutic support and interventions specifically relating to the peripartum period
Trauma-sensitive, culturally responsive, evidence-informed practices
Skill building and treatment-focused case management with a Peer Support Partner
Group-based psychoeducation and support
Quarterly behavioral health trainings and case consultation with Public Health Nursing programs
Collaborative partnerships with community providers and coordination of care for wraparound support
Six-months of services
Professional Staff: 
BBS licensed and licensed-eligible Clinicians and Peer Support Partners provide accessible, trauma-informed services, utilizing evidence-based practices.
Bilingual mental health Clinicians and Peer Partners and interpretation services available when needed.
Program hours are Monday through Friday 8:00 AM to 5:00 PM
By appointment based on client's availability
For More Information or Referral
Complete an ADAPT referral form! Referral can be sent via secure server, encrypted to adaptreferrals@vistahill.org.
For more information on becoming a referral partner or referral pathway please call and/or email adaptreferrals@vistahill.org.
(619) 333-4250
(619) 573-1226 Fax
Funding for ADAPT is through the County of San Diego.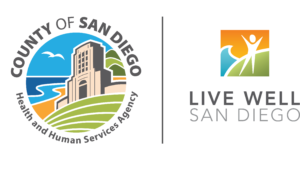 ---
Who is Eligible?
Pregnant or postpartum and/or a family member of someone pregnant or post-partum.
Meet criteria for perinatal mood and anxiety and/or are at risk of a perinatal mood and anxiety disorder.
Underinsured, have Medi-Cal, and/or are eligible for Medi-Cal.
Reside in San Diego County.
Not currently enrolled with another mental health provider.